Our Team
This gallery contains The Recycler's leadership team.
Matthew Haden - Founder and Managing Director
Matthew is responsible for growing the business and developing new projects that add value to waste. He has a masters from the University of Cambridge where he studied business, economics and international development. He originally came to Tanzania to work with the International Organization for Migration, but saw the need for waste management in the country and founded The Recycler. He has previously worked with one of the largest recycling companies in South Africa - WastePlan.
Philipo Stephen - Contract Manager
Philipo was the Recycler's first employee and started off with the company as a driver. Philipo is now The Recycler's contract manager, responsible to oversee clients' sites, the selling of recyclable material, and general staff management. He is also a gifted trainer and trains our clients' staff as well as our own employees in recycling and waste management. He has a Bachelors of Science degree from Amity University.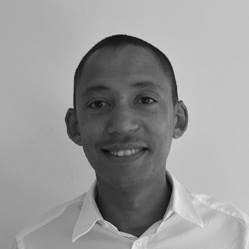 Kigen Compton - Partner for Insect-Derived Protein Project
Kigen approached The Recycler to form a partnership to produce Insect-Derived Protein and is a co-owner of the project. He has a Bachelors of Commerce in Finance, and a Masters degree in Project Management. He comes with strong experience of working with a multinational company in East Africa for several years. His role is to develop the Insect-Derived Protein project in collaboration with The Recycler.